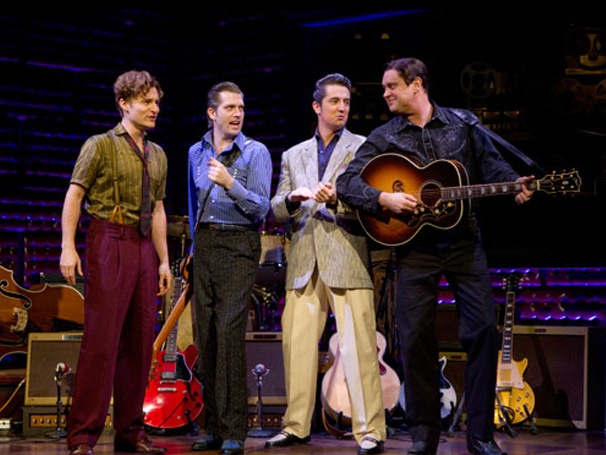 This Memorial Day weekend, the legendary music of four rock 'n' roll icons will reverberate throughout Starlight Theatre and its Swope Park surroundings as Million Dollar Quartet kicks off Starlight's 65th Broadway season. From May 22 to May 24 at 8 p.m. each night, the spirit and sounds of Elvis Presley, Jerry Lee Lewis, Carl Perkins and Johnny Cash will transport Starlight audiences back to Dec. 4, 1956 and the famed Memphis recording studio of Sun Records.
The Tony Award®-winning Million Dollar Quartet is inspired by the events of that December evening when an auspicious twist of fate brought together Presley, Lewis, Perkins and Cash for the first and only time. The music and magic they made at Sun Records' storefront studio, where producer Sam Phillips launched each of their careers, would go down in history as one of the greatest rock 'n' roll jam sessions of all time.
"The music of Million Dollar Quartet is outstanding, the story is captivating, and audience members leave humming the tunes," said Rich Baker, Starlight president and CEO. "I'm thrilled that we're able to launch our 65th anniversary season with a musical set in the same decade that Starlight began. This is a show that people love the first time and then want to see over and over again."
Million Dollar Quartet brings to life that legendary night with a compelling tale of broken promises, secrets, betrayal, humor and celebration. Its electrifying score features such timeless hits as "Blue Suede Shoes," "That's All Right," "Sixteen Tons," "Great Balls of Fire," "I Walk the Line," "Whole Lotta Shakin' Goin' On," "See Ya Later, Alligator," "Fever," "Folsom Prison Blues," "Hound Dog" and more.
After opening at Chicago's Apollo Theatre in November 2008, where it continues to play to packed houses today as the city's longest-running musical production ever, Million Dollar Quartet played on Broadway from April 2010 through June 2012. The show added London West End credits in 2011 and a Las Vegas production in 2013. The national tour coming to Starlight is in its fourth successful year, with more than 60 U.S. cities on the 2015 route.
Million Dollar Quartet in 2013 won a Tony Award for Best Performance by a Featured Actor in a Musical and received Tony nominations for Best Musical and Best Book of a Musical. The show also received an Outer Critics Circle Award for Outstanding Featured Actor.
The show is directed by Eric Schaeffer and features a book by Colin Escott and Floyd Mutrux. The design team includes Derek Lane, scenic design. Howell Binkley, lighting design; Jane Greenwood, costume design; Kai Harada, sound design; and Chuck Mead, musical arrangements and supervision.
Tickets for Million Dollar Quartet at Starlight Theatre are on sale now for $12 to $92. Tickets are available online at www.kcstarlight.com, by calling 816.363.STAR (7827) or at the Starlight box office at 4600 Starlight Road, Kansas City, MO 64132.  All performances begin at 8 p.m.
Discount prices for groups of 15 or more are available by contacting group sales manager Staci Shute at 816.997.1137 or staci.shute@kcstarlight.com.