Kansas City's Lawn Party 2022
Event Navigation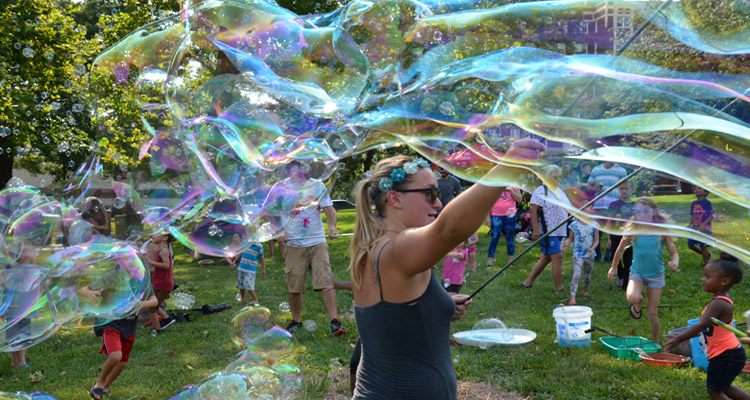 Sunday, July 17, 2022
4-8 p.m.
The Nelson-Atkins Museum of Art Donald J. Hall Sculpture Park and Theis Park, Between Oak and Rockhill on Emanuel Cleaver II Blvd.
(Cleaver II Blvd. will be closed  from 2-9 p.m.; details below)
Celebrate National Parks and Recreation Month at KC's biggest lawn party! This fun-filled evening of live music, food trucks, art activities and lawn games stretches from the Nelson-Atkins Museum of Art to Brush Creek. Discover Enjoy art activities, live music, and games throughout the Lawn Party. Pack your own picnic or grab dinner from an on-site food truck! Rain or shine; no grills, no stakes, no tenting.
We want to see your pictures! Use #KCBigPicnic and #KCParks #WhereKCPlays and we'll share our favorites on our social media.
#KCLawnParty Highlights
Musical performances by the Salvation Choir, Starlight STARS and Back Alley Brass Band
Recreation stations featuring badminton, lawn games by KC Crew
Giant Bubbles in Theis Park
ROAD CLOSURE:Emanuel Cleaver II Blvd. from Oak Street to Rockhill Road will be closed for the Lawn Party from 2-9 p.m.
DETOUR: From the East-south on Rockhill Road to Dr. MLK Blvd. to Oak Street; from the West-south on Oak Street to Dr. MLK Blvd. to Rockhill Road
To find more about RideKC bus service to the event and plan a trip, visit https://t.co/UaCfjmTPem. Main MAX and Troost MAX offer service on Sunday, July 17.