Shelter/Outdoor Facilities Reservations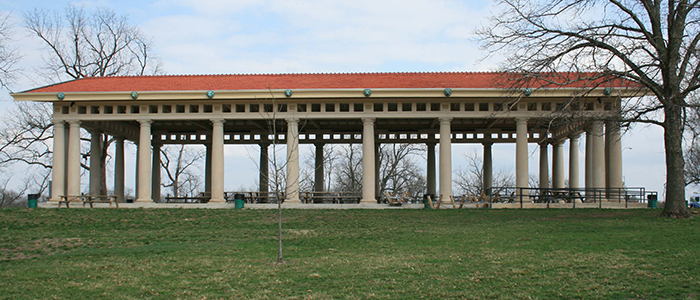 Please follow physical distancing guidelines.  Please stay six feet apart.  If you can not be 6 feet apart, masks are required.
KC Parks reserves picnic shelters for small, private gatherings throughout the City.  Shelter reservations can be made for the current year, online only, beginning at 7 a.m. the first business day of January. Reservations can be made:

Online>>
Loose Park Garden Center, 5200 Pennsylvania. Due to the Loose Trust for the park, food trucks are not allowed in Loose Park. Groups renting the shelter may not hire food trucks for their event.
To make an appointment to book shelters in person please contact Southeast Community Center 816-513-0632 or Gregg/Klice Community Center 816-513-0650.
For cancellations email kcparksrefunds@kcmo.org
For reservation date changes or any other concerns please email Ashley Allen or call 816-513-0632
All reservations are for the entire day (9 a.m. to 10 p.m.). KC Parks is not responsible for technical difficulties when reserving shelters online.
Reservations must be a minimum of three (3) days in advance for the date requested. Cancellations must be made 14 days prior to the reserved date for refund. A $20 fee will be withheld for all shelter refunds.
NO REFUNDS WILL BE MADE FOR REASON OF INCLEMENT WEATHER.
If you are planning to CHARGE ADMISSION or PROMOTE EVENT TO THE PUBLIC, after securing the shelter, you MUST also get a park event permit. Please complete the online event request form.
The shelter house will be cleaned on the morning of the reservation. However, although every effort will be made to maintain utilities, water and electrical services (where available) are not guaranteed.
If you will be having INFLATABLES at your shelter event (moon walks, bounce houses, slides, etc.), insurance is required as follows: Commercial general liability with limits of $1 million per occurrence and $2 million aggregate, written on an "occurrence" basis, listing the City of Kansas City, Missouri as the additional insured. Please provide proof of insurance a minimum of three (3) days prior to the event via email to Ashley.Allen@kcmo.org, by mail or in person to: Shelter Reservations ATTN: Ashley Allen, 4600 East 63rd St. Trfwy, Kansas City, MO 64132. Be sure and include your event date, location and name on shelter reservation. Please note, INFLATABLES are NOT allowed in Loose Park.
Park Rules 101
Please help keep our parks clean. Place all trash in the containers provided. The reserving party will be held responsible for any destruction of park property. All signs, banners and/or any decorations erected relating to the event must be removed upon completion of the reservation day. Please be sure to keep all motorized vehicles off the grass at all times.
Sales of any kind are prohibited on park property. Alcoholic beverages are prohibited on public property; Ordinance 39.390 (sec. 26.25). Glass bottles are prohibited within park property.
The following is a list reservable shelters and the current fee structure.
*Click on the shelter name for list of amenities and photo.