S.H.A.P.E. Program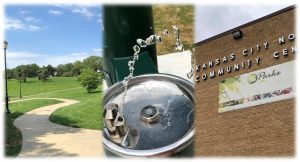 S.H.A.P.E. Mission
The S.H.A.P.E. (Safe, Healthy, Attractive, Public Environments) Program is designed to measure the effectiveness of the department in the areas of park and facility maintenance through the consistent monitoring and evaluation of the City's public parks and Parks and Recreation facilities.
KC Parks is committed to providing safe, clean and beautiful environments for our community. If you discover a park and or a facility that does not meet our high standards of excellence, please report the issue to the City's 311 Call Center by dialing 311 or 816-513-1313 between 7 a.m. and 7 p.m. weekdays. You may also report online or via Twitter @KCMO311.
The S.H.A.P.E. Inspection Program is administered through the Finance Division of the Parks and Recreation Department. A trained inspector within the Finance Division performs inspections throughout the year, giving each inspected park or recreation facility a rating of 4 – Very Good, 3 – Good, 2 – Poor, or 1 – Unacceptable. These overall ratings are based on an average of ratable features within each park and facility.
The three Park categories and their features:
Cleanliness

Litter
Broken glass
Graffiti

Structural

Shelters and Comfort Stations,
Sidewalks
Drinking Fountains
Hard Surfaces
Play Equipment
Park Roads and Parking Lots
Safety Surfaces
Fences and Barriers
Seating Areas
Grills

Landscape

Trees
Turf
Horticultural Areas
Water Bodies
Athletic Fields
Trails
Dog Park Areas
The three Facility categories and their features:
Critical Areas

Front Desk/Office/Lobby
Restroom/Locker Rooms
Kitchens
Pools
Litter
Graffiti
Broken Glass

Interior Areas

Gymnasium
Exercise Room
Special Use & Meeting Rooms
Doorways and Hallways

Exterior Areas

Structure & Signage
Parks Roads & Parking Lots
Sidewalks
Lighting
Horticultural Areas
Turf
Trees
SHAPE Inspection Program ratings provide Parks and Recreation management, elected officials, and the general public with a broad indicator of the condition of Kansas City Parks. In doing so, the ratings serve as performance measure for Parks and Recreation. Using the ratings, the agency holds itself accountable to specific standards of cleanliness, safety, and structural condition of our parks and critical areas, interior and exterior areas for facility standards. SHAPE inspection reports include detailed information on specific parks regarding the condition of features of the parks inspected. This helps Parks and Recreation use its resources effectively to target problem areas. This detailed site-by-site information is especially important in the allocation of capital funding each year.
SHAPE inspections are sent immediately to the district supervisor or center directors. Unacceptable inspections are also sent to the Superintendent of Parks for Natural Resources or for Community Services.  A monthly summary is sent to the Director, Deputy Director and Superintendent of Parks.
SHAPE Point of Contact:
Code Enforcement Officer
Erika Laursen or 816.513.7544
Analyst
Charles Leap or 816.513.8588