Weddings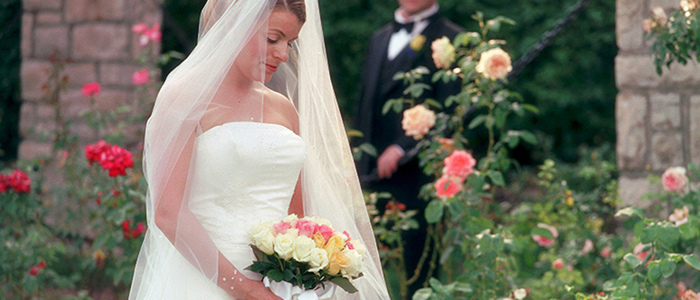 KC Parks offers some beautiful outdoor venues for your wedding.
To reserve a park for your wedding ceremony, please complete the Wedding Request Form.
Questions? Email parks.weddings@kcmo.org or call 816-513-7787.
With 222 parks, located all over greater Kansas City, you are sure to find one that fit your needs. From neighborhood parks to lakes, fountains, trails, golf courses and even a Zoo, the Kansas City, Missouri park system provides a wide array of settings and venues from which to choose. Listed below are some of the more popular wedding ceremony venues. Link to Permit Fees>>*Note: Generally, just ceremonies are performed in our parks (due to alcohol restrictions, late evening hours, etc.).
Jacob L. Loose Park and the Laura Conyers Smith Rose Garden, W. 51st Street and Wornall Road. The Rose Garden is the most popular wedding location, but Loose Park Pond also offers a quaint area for smaller wedding ceremonies. For Loose Park wedding details, visit the Loose Park Weddings page.
Shoal Creek Living History Museum in Robert H. Hodge Park, 7000 NE Barry Road. This authentic 19th century village offers a unique setting. Mt. Ararat Church is a one-room building with vestibule and raised chancel is available for weddings. The church seats up to 120 guests indoors, but you may set up anywhere within the grounds for an outdoor ceremony. For more information, call 816-392-5433.
Mill Creek Park, 47th and J.C. Nichols Parkway on The Plaza. Home of KC's most famous fountain, Mill Creek Park provides a beautiful setting for small weddings adjacent to the Country Club Plaza. PLEASE NOTE: Certain items are not allowed in Mill Creek Park.
Southmoreland Park, Emanuel Cleaver II Boulevard and Oak Street
Just to the west of the Nelson-Atkins Museum of Art, Southmoreland Park is a nicely shaded park with lots of tree coverage and large stone wall. The park is not available Memorial Day through mid-July due to the annual Shakespeare Festival.
Anita B. Gorman Park, N. Holmes Street at NE Vivion Road.Home of the Northland Fountain, one of the few fountains that flows all year long in Kansas City, Anita B. Gorman Park and the Northland Fountain offers a pretty spot for ceremonies.
Richard & Annette Bloch Cancer Survivors' Park, Roanoke Parkway and W. 47th Street, on the west side of The Plaza.Ideal for a smaller ceremony, this location provides vined pergolas on its south side and a convenient Plaza location if your reception is in a nearby hotel.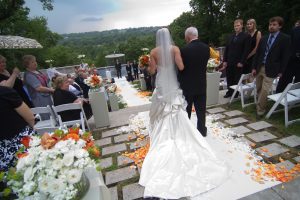 Swope Memorial in Swope Park, 6900 Swope Memorial Drive, just northwest of the golf course clubhouse.Sitting up on a cliff, overlooking Swope Park and the Kansas City Zoo, this is a very picturesque location. If you want privacy, this location should be your first pick. Due to limited parking, you may be asked to bus in (think trolley or limo bus) your guests from your reception site, especially if wanting a morning or mid-afternoon ceremony. This location is not recommended if you have more than 150 guests.
The Concourse in Kessler Park, Gladstone Boulevard & Benton Boulevard. Curved stone colonnades to the north and a fountain to the south, make this a beautiful and historic northeast Kansas City setting.
Spirit of Freedom Fountain or the Hillside Fountain (waterfall), Emanuel Cleaver II Boulevard at Cleveland Avenue. Situated along Brush Creek, either of these water features would provide a beautiful backdrop for your ceremony.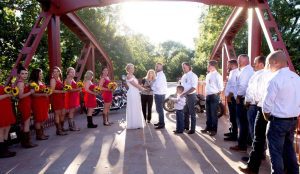 Old Red Bridge in Minor Park, East of Holmes on Red Bridge Road. The Old Red Bridge in Minor Park is home to Kansas City's Love Locks tradition and, as such, is an extremely appropriate site for a wedding ceremony. The placing of love locks is a custom whereby couples affix a padlock to a bridge, fence, or gate so pronouncing their unbreakable and everlasting love. The Old Red Bridge is a pedestrian bridge that sits over the Blue River in South Kansas City. The bridge provides a beautiful, historic and unique setting.
These are just some of the more popular wedding locations. You may have another park that has a special meaning. Perhaps where you had your first date or where he popped the question? Unless otherwise noted, complete the Wedding Request Form. If you have additional questions, email parks.weddings@kcmo.org please. The best thing for each future bride and groom is to go visit a park location and decide what works best for their big day.
NOTE: The Kansas City, Missouri Parks and Recreation Department does not permit events within our boulevards. Although we know there are some beautiful structures within our boulevards, the liability issues due to traffic are not conducive to host an event.