It's almost Springtime and that means love is in the air. It also means that wedding planning fairs are everywhere as brides-to-be explore ideas for their big day. Surprisingly, the City offers perhaps the largest collection of wedding venues in the metro area. From intimate ceremonies on a sun-dappled wooden bridge to a wild backdrop at the zoo, the list is long and varied. But don't delay in booking a facility—some fill up quickly.
A long-time favorite spot is the Loose Park Rose Garden, a romantic setting just south of the Country Club Plaza with a bubbling fountain and built-in fragrance. People used to camp out on the first business day in January to reserve a date in the popular months of June and September. This practice stopped after a new policy that allows bookings beginning in April for the next calendar year. A nearby pond fringed with picturesque bridges and towering trees is an alternate location for a small ceremony.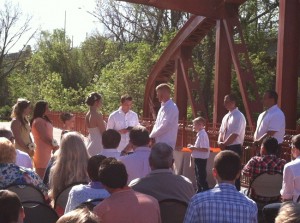 A more elaborate bridge setting is Minor Park's Old Red Bridge in south Kansas City where sweethearts are encouraged to "lock" their love by snapping a padlock (often signed with their initials) onto the railings. This historic bridge across the Blue River now serves as a pedestrian walkway and an occasional wedding aisle.
A different type of historic setting is provided by the Shoal Creek Living History Museum in Clay County. This authentic 19th century village includes the Mt. Ararat Baptist Church, a one-room building with a vestibule and raised chancel. It seats 125 people, and true to the period, has no air conditioning, heat or electricity. Windows in the white clapboard structure let in light and natural ventilation.
Other popular spots are Swope Memorial, which sits on a cliff and offers sweeping views of Swope Park and the Kansas City Zoo; Mill Creek near the J.C. Nichols Fountain adjacent to the Plaza; Southmoreland Park with its 100-year-old stone walls; the classic Colonnade in Kessler Park; and the Bruce R. Watkins Cultural Heritage Center (for receptions only) near the dramatic Spirit of Freedom Fountain.
More information on KC Parks wedding venues. Watch a video about KCParks Wedding Venues.