The Missouri Parks & Recreation Association recently recognized our KC Parks Ambassadors and Recreation Manager Jody Siemer for their accomplishments.
Ambassadors Program: 2023 Organization Citation Award
In 2020, Kelly Jander was hired by KC Parks to develop a volunteer program. Little did we know a global pandemic would begin shortly thereafter. Undaunted, Kelly changed her recruitment tactics to "make a difference, while you distance" and focused on getting volunteers out in the parks to pick up trash in a safe and socially distanced manner. And, it worked!!!
During the first year of the pandemic, 130 volunteers contributed 4,400 hours to beautify Kansas City, Missouri's parks and boulevards–services valued at more than $120,000.
The KC Parks Ambassadors program has grown immensely since its beginning in 2020. In just over two years, Ambassadors have helped KC Parks extend our capacity to engage more than 10,000 volunteers in 600 projects. Volunteers have served 17,500+ hours, a service value of about $600,000, addressing many of our department's greatest needs and aiding with projects that would otherwise take maintenance employees away from regularly scheduled essential duties.
The successful program has not gone unnoticed. KC Parks Ambassadors are regular recipients of awards, ongoing positive media attention and quality public relations. The new City Manager even took note and called upon Kelly and the KC Parks Ambassadors to coordinate two city-wide cleanup efforts in 2022.
Our KC Parks Ambassadors are always willing to help and do much more than beautify our city—they also build important connections between residents and the parks department and keep our iconic greenspaces in top condition for those who live in and visit Kansas City, MO.
Watch Video>>
---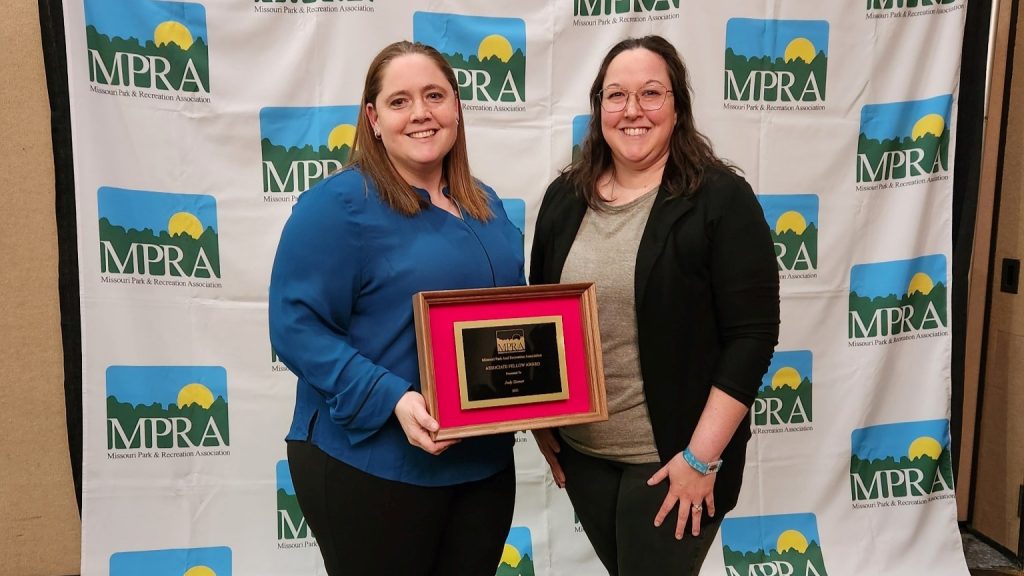 Jody Siemer: 2023 Associate Fellow Award
MPRA's Associate Fellow Award is given to a parks professional who is a designated "Certified Parks and Recreation Professional", serves on the MPRA board or committees, has published articles or addressed groups in the interest of parks and recreation, and has an overall outstanding contribution to the field of parks and recreation.
KC Park Manager of Recreation Jody Siemer is clearly deserving of MPRA's Associate Fellow Award based on the following qualifications:
CPRP certified
Currently serves as the Region 1 Director for MPRA
Former President of MPRA's Young Professionals Section
2023 MPRA Conference Committee Member
Graduate of the Lyle B. Beaver Leadership and Development Institute
Graduate of the National Park & Recreation Association's Directors School
Supervisor of the Year: 2018 KC Parks Community Services Awards
Superintendent's Above & Beyond Award: 2017 KC Parks Community Services Awards
Class of 2018: Northland Leadership, Northland Chamber of Commerce
Featured on the podcast "Let's Talk Parks"