Originally a French 75mm. cannon stood at this location.  The half acre site and cannon were dedicated May 25, 1941 under the direction of the Thomas J. Kiely Post of the American Legion in memory of Lt. Thos. J. Kiely who died September 12, 1918 in France while fighting in World War I.  The cannon, removed on June 18, 1941 because children were using it as a teeter-totter was later replaced by the Fitzsimons-Battenfeld Memorial.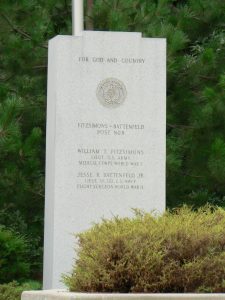 This memorial provided by the Fitzsimons-Battenfeld American Post No. 8, contains the following words:
For God and Country
Fitzsimons-Battenfeld
Post No. 8
William T. Fitzsimons
Lieut. U.S. Army
Medical Corps World War I
Jesse R. Battenfeld, Jr.
Lieut. SR. GD. U.S. Navy
Flight Surgeon, World War II
Designer: Unknown
Dedicated: Unknown
Description:
Height: 9 feet
Length: 4 feet
Width: 2 feet
Granite Monument