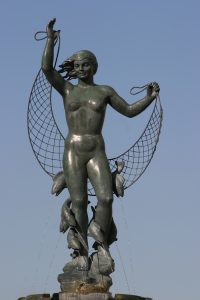 Artist/Designer: Wheeler Williams
Dedicated: December 2, 1962
Description: Also called the "Muse of the Missouri"
Mr. and Mrs. James Kemper, Sr. of a prominent Kansas City banking family presented this memorial to the city in honor of their son, Lt. David W. Kemper, who was killed in action in Italy during World War II.
The following words are inscribed on the granite tablet:
Muse of the Missouri
Dedicated
December 2, 1963
In memory of
David Woods Kemper
Well beloved
Who died defending his
Country
The bronze nude depicts the Greek goddess who presided over song, poetry and many arts and sciences.  The statuary represents the Spirit of the Missouri River.  The Muse holds a net from which fish are spilling.  Two hundred sprouts of water form pools in this fountain.
Included with the sculpture is a bronze plaque containing the following:
THE MUSE OF THE MISSOURI
By Wheeler Williams NA
This fountain presented to the Citizens of Kansas City in memory of Lt. David Woods Kemper who was killed in action leading his platoon against the German forces in World War II.