History
Penguin Park began as part of Lakewood Greenway, an area acquired by the Parks Department in 1957. Vernon Jones, the Kansas City North parks district supervisor, created and built figures for Santa's Wonderland in Gillham Park. After another employee made a miniature penguin for Santa's Wonderland, Jones decided to build a large penguin in 1965. The penguin was placed on the northern area of Lakewood Greenway and was a hit. Jones created other animals for the site, such as a giraffe, elephant and kangaroo. He continued to create other figures for Santa's Wonderland at the northern park and Gillham Park, as well as other figures and more conservative work for the Parks Department, such as repairs to columns. While unofficially known as "Penguin Park" for years, the corner of Lakewood Greenway was officially renamed Penguin Park in December 1998.
Learn more about the history and creator of Penguin Park in this KCUR story.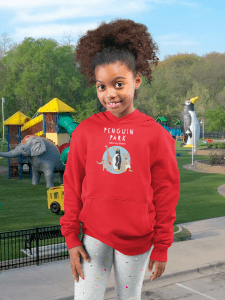 Support
Show your Penguin Park pride and support the park at the same time!
A portion of sales from Penguin Park merchandise, created by local artist Kevin Worley, will be donated to KC Parks for Penguin Park improvements and maintenance.  We appreciate it!!
*Shop for Penguin Park apparel, accessories, prints and more online>>
*Check out the new Penguin Park Coloring & Activity Book on Amazon>>