This facility is under a year long facility use agreement. Call 816-587-0880 for field reservations.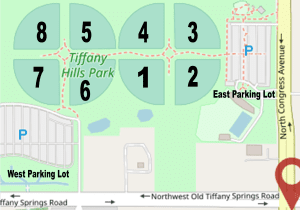 Tiffany Hills Sports Complex Field Map
Fields 1 – 4 East Side
Fields 5 – 8 West Side
The East parking lot by the Springs Aquatic Center is not available for baseball/  softball parking between Memorial Day and Labor Day when the pool is open.
Location: N. Congress Ave. and Tiffany Springs Rd.
Park District: North
Number of Diamonds: 8
Lighted Diamonds: 8