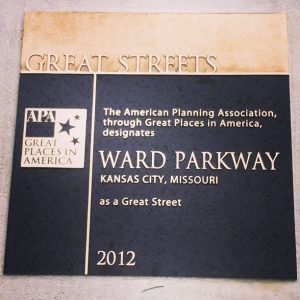 Ward Parkway, one of 10 Great Streets for 2012, as designated by the American Planning Association (APA) under the organization's Great Places in America program, is renowned for its picturesque scenery, striking ornamentation, magnificent houses, and variety of uses. The boulevard, designed by landscape architect George Kessler, ambles along a gently undulating landscape, at times paralleling Bush Creek and the Missouri-Kansas border.
Ward Parkway is one of the crown jewels of Kansas City's 135-mile boulevard and parkway system. Parkways and Boulevards are defining features of KC that tie communities together with ribbons of green and balance the need to move traffic with a desire to maintain a "City within a Park" feel. Planned as Kansas City's premiere residential boulevard, Ward Parkway is a monument to the City Beautiful movement and embraces the natural terrain of the area, complementing the historic apartment buildings, shopping plazas, businesses, mansions and parks found along this right-of-way.
Ward Parkway begins its 12-mile, southerly run at Country Club Plaza, the nation's first auto-oriented regional shopping center. Cars, however, take a back seat to the pedestrian experience and are concealed in multilevel garages beneath and behind shops or on building rooftops. Opened in 1922, the plaza reflects classic European influences and features over $1 million in public art. Its iconic J.C. Nichols Memorial Fountain, along with several others, contributes to Kansas City's reputation as The City of Fountains.
Fountains punctuate Ward Parkway. The Mirror Pool Fountain, built in 1924 and renovated in 1965, fills an entire city block while the Seahorse Fountain, with its spectacular 17th-century Venetian sculpture, adorns the parkway's Meyer Circle. Monuments are scattered throughout the boulevard as well.
Parkway maintenance and enhancements have been funded, in part, by earmarked revenues, including a one-cent capital improvement sales tax, renewed in 2007 for 10 years, and an arterial impact fee, assessed on any new developments along the parkway. Last year saw the establishment of the Ward Parkway Center Community Improvement District to raise funds for redevelopment of this 1959 retail outlet.
Improvements and enhancements are not exclusive to the public sector. Last year, the engineering firm of Burns & McDonnell announced it would spend $20 million to renovate its headquarters at the southern end of Ward Parkway and build a 450-seat auditorium, conference center, and wellness clinic.
Ward Parkway contains numerous historic properties and a single historic district. Comprising that district are three reinforced concrete apartment buildings with a Spanish Revival motif. These mid-1920s structures were erected when it became evident to developer J.C. Nichols that the density of his exclusive Country Club District would not support Country Club Plaza. Historic mansions and houses of architectural significance grace Ward Parkway, the earliest being the 30,000 square-foot mansion of a lumber tycoon. Among the houses added to the National Register are those in the Antebellum, Prairie, and Neo-Classical Revival styles.