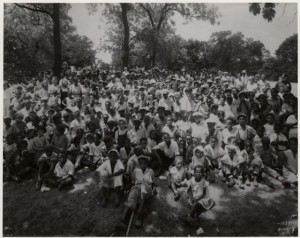 Once upon a time, in Kansas City, MO, blackness meant colored people (during the 30s and 40s) and Negros (during the 50s and 60s) cooling themselves, hanging-out, showing-off and having a good time on 'Watermelon Hill in Swope Park.
"Watermelon Hill." That picnic place in Swope Park in Kansas City, MO is still there. The configuration for Shelter No. 5  is quite different. Memories of the good times on the, hill, from the 1950s and 1960s may be gone, but they are not forgotten!
Stories about Shelter No. 5, located between the back of Starlight Theater and the front entrance to the zoo, are laced with anger and laugher.
Many Negroes thought "that place" in Swope Park, set-aside for Colored people, was degrading and a throw-back to the darkest days of Jim-Crow. The crowds made "Watermelon Hill" a side-show for white people on the way to the zoo. It was embarrassing to be seen here.
On the other hand, hundreds of residents from the "Hood" enjoyed going out to the park and on the way looking at how white people lived in the forbidden Southeast part of the city.  Swope Park was a "get-away place" from the confinement bounties of the black community which were 9th Street to 27th Street, Troost Ave. to Benton Blvd.
Visitors to the Bruce R. Watkins Cultural Heritage Center and State Museum recall "Watermelon Hill"  as being sort of an island (acre and a half) in "big ole" Swope Park (little over 1,500 acres at the time).
The picnic grounds for Shelter No. 5 were laid-out to accommodate maybe 400 to 500 people, but on weekends and holidays, the place could be overcrowded with a 1,000 smiling faces, many people coming by streetcar.
The spot was called "Watermelon Hill" because families brought watermelons to the park in croker sacks, duffle bags and pillow cases. Fifty pounds of ice in washtubs kept the melons cold.  And, there were watermelon-eating contest.  Baseball and Volleyball were favorite games for all ages.
Old men liked playing checkers and dominos on card tables or on the ground. Kids enjoyed flying kites. They loved sharing bottles of cold soda pop (the likes of  grape, orange and strawberry) and making homemade ice-cream.  Baseball and Volleyball were favorite games for all ages.
Like it or not, "Watermelon Hill" was popular. It was a favorite place for church outings and family get-togethers.  A great place to be out outdoors and lay out on the grass.
Oral historians at the History Table at the Palestine Senior Activity Center on Prospect Ave. say "Watermelon Hill" was a sight to be seen.  Hundreds of people dressed in bright colors could be seen for miles.  They talk about the hill with endearment. It was a fine place for everyone to have fun.
A whole-lot of people liked going to "Watermelon Hill" for a good time. Some liked to slow-dance to the loud music of "Down-home Blues". There were dice games and young and old people enjoyed playing horseshoes.
The thing for many men was barbequing ribs, chicken and turkey legs. For others it was grilling hamburgers, hotdogs and roast-n-ears. And, there was some-undercover drinking and clowning around. But, no fights and few reports of disorderly conduct.
A lot of good memories go back to "Watermelon Hill." Today, "Watermelon Hill" is a mythical place that connects the past to the present.
Presented by local historian Joelouis Mattox discussing the history of "Watermelon Hill" in Swope Park in 2013.