Carl DiCapo served as a Park Commissioner from 1986-1992. He passed away on April 26, 2023, but his legacy lives on.
Carl DiCapo was born in 1927 in Kansas City, MO. He married his wife, Anita, in 1954.  They raised three children (Jack, John David, Carl Michael) and doted on three granddaughters (Lauren, Alexandra, Ava)
He was a graduate of Northeast High School in 1944 and attended the University of Missouri in Columbia from 1945 to 1948.  Prior to graduating, he left school and worked for the IRS.  Then in 1991 he returned to finish his studies and receive his degree.
Eventually he went to work in the family business as a cashier, manager, and then president of beloved Kansas City establishment, Italian Gardens Restaurant. While there, he was elected President of the Kansas City Chapter of the Missouri State Restaurant Association as well as Director of the State association. In 1979, he had the distinction of being named "Restaurateur of the Year" and later was elected to the Association's Missouri Hall of Fame.
Carl loved his hometown and showed his support by participating in many municipal authorities over the years. A small sampling includes Director of the Kansas City Convention & Visitor's Bureau, Chairman of the Mayor's Ethnic Enrichment Commission, member of the Desegregation Monitoring Committee to desegregate the KCPS, President of the Kansas City Chapter of UNICO, board member of the Don Bosco Center, as well as Commissioner of the Parks & Recreation Board of Commissioners where he served from 1986 to 1992.
The following are some of the accomplishments made by the Kansas City Parks & Recreation Department during his tenure as a commissioner:
Passage in 1986 of Boulevard and Park Maintenance Levies to assist in maintaining quality open spaces.
Passage in 1990 of a General Obligation Bond Issue to build a New Zoo in Swope Park.
Dedication of the Vietnam Veterans Fountain as a tribute to all Vietnam Veterans from the seven-county metropolitan area
First full year of operations for Satchel Paige Stadium (1987).
Installation of Mill Creek Fitness Trail.
Dedication of Pioneer Park in cooperation with Westport Historical Society and Native Sons of KC. Statues includes John Calvin McCoy, who platted the town of Westport in 1833; Alexander Majors, partner in a Westport freighting business and partner in the Pony Express; Jim Bridger, explorer and frontiersman who operated a dance hall and saloon in Westport.
Renovation and reconstruction work done on Histor­ic Cliff Drive in Kessler Park.
Construction of Henry Moore Sculpture Garden on the grounds of the Nelson-Atkins Museum.
Bronze Restoration of the Pioneer Mother in Penn Valley Park.
Dedication of the Bruce R. Watkins Cultural Center.
Approval of a Robert H. Hodge Park master plan and a Tiffany Springs Park master plan.
Firefighter's Memorial Fountain groundbreaking.
Swope Memorial Golf course reopened after a $1 million renovation – included restoration of the Tillinghast design from the 1930s.
Dedication of Richard and Annette Bloch Cancer Survivors Park.
Dedication of Jerry Darter Park.
Grand Avenue from Main St. to Missouri River brought into boulevard system as Grand Boulevard.
Swope Park Master plan approved.
Renovations done to Haff Circle Fountain and Garrison Community Center.
Groundbreaking for Australia Exhibit in the Zoo.
Property Acquisitions and Additions to existing parks: Tiffany Springs Parkway, Line Creek Parkway, Hodge Park, Maplewoods Parkway, Sunset Park, Indian Creek Greenway, Rock Creek Park, Shoal Creek Parkway, and Santa Fe Trace Park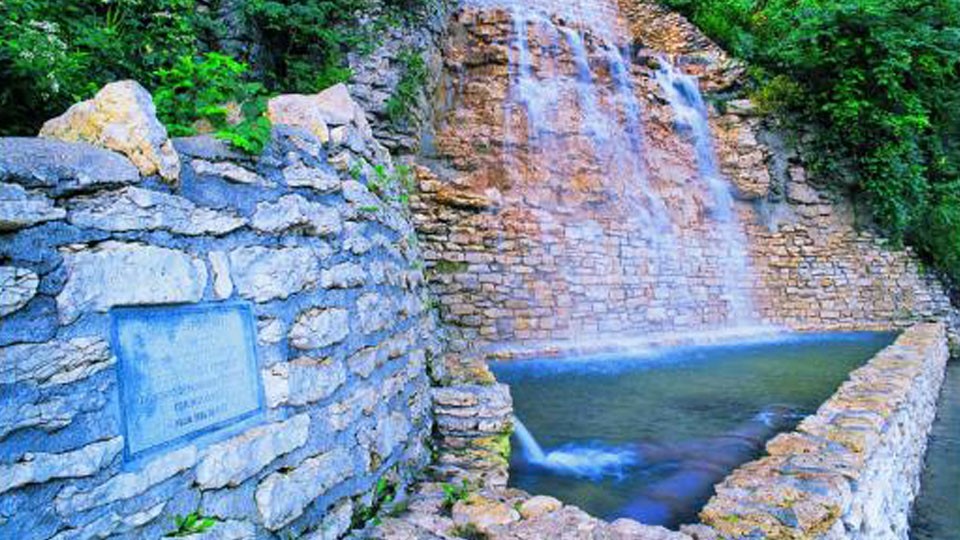 In 1989, a fountain located in Kessler Park on scenic Cliff Drive in Kansas City's Historic Northeast, was converted and dedicated as the Carl J. DiCapo Fountain. The fountain's composition of natural rock and spring water place it in a unique category. The recirculating waterfall was constructed to draw attention to a natural spring with a rustic cliffside setting.
After his retirement in 1998, Carl continued to participate in civic activities. He was appointed as President of the Liberty Memorial Association and oversaw fundraising for the renovation and development of the World War I Memorial & Museum. He also spearheaded the installation of the Native Sons and Daughters of KC monument in Ilus Davis Park, and served as an Honorary Member of the Kansas City Museum's capital campaign for Corinthian Hall.