Celebrate your commitment by "locking your love" to the Old Red Bridge in Minor Park. The placing of love locks is a custom whereby couples affix a padlock to a bridge, fence, gate or similar fixture so pronouncing their unbreakable and everlasting love.
The Old Red Bridge is adjacent to the new bridge located on Red Bridge Road between Holmes and Blue River Road in south Kansas City. The bridge is also a popular wedding location.
Key Drop Box: After you lock your love, help keep the Blue River clean by tossing your key into special boxes attached to the bridge.
Purchase a Lock (visitors must bring their own locks; locks are not available to purchase at the bridge)
*Visit www.lock-itz.com to purchase a custom lock with a portion of proceeds supporting KC Parks. Include "I LOVE KC Parks!" in the notes section when ordering.
*Visit MakeLoveLocks.com
*Lovelocks are also available for purchase at the Minor Park Golf Course Pro Shop, 816-942-4033.
View Images/Video
View more images of the Old Red Bridge Love Locks in our Facebook Photo Album or click on GALLERY on the top right. Watch a video about the Old Red Bridge Love Locks.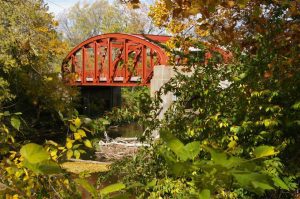 History of the Old Red Bridge
In 1859, the first red bridge was built by Colonel George N. Todd, a 50-year old Scottish stonemason. The 100-foot span covered wooden bridge on stone piers was located just downstream from today's bridges at the actual trail crossing. It was painted red, hence the origin of "Red Bridge."
The original bridge was torn down in 1892 and a steel bridge, called a "tin" bridge, also painted red replaced it.  The 1859 bridge was dismantled and the wood recycled into barns by local farmers.
A third and current Old Red Bridge replaced the 1892 "tin" bridge and was dedicated by Harry S. Truman (when he was a judge) in 1932 during the Great Depression.   The bridge is made of concrete, steel and red granite.  It was built by Jackson County; Richard Wakefield was the architect.
When the new Red Bridge was opened, the Old Red Bridge was re-purposed as the Love Locks Bridge. More than 5,000 locks have been placed on the bridge since opening in February of 2013.
Read about the new Red Bridge>>