Board of Parks and Recreation Commissioners

Mary Jane Judy, President (2013-Present)
Mary Jane Judy is co-Office Managing Partner at Polsinelli where she focuses on real estate transactions and finance matters. She has previously served as chair of the City's Liquor Control Board of Review as well as on the boards of several charities. She is a graduate of the University of Missouri School of Law.
Shannon Cade, Commissioner (2017-Present)
Shannon Cade is Corporate Counsel for Cerner.  Ms. Cade currently serves on the Board of Directors for R.U.B.I.E.S., Inc. and DEBATE-Kansas City.  She received a bachelor's degree in business management from the University of Missouri—Columbia and a law degree from Northwestern University School of Law.
Yolanda Medina Casey, Commissioner (2018-Present)
Yolanda Casey is the Program Leader Retail Visual Merchandising for Hallmark Cards.  Ms. Casey currently serves on the Kansas City Board of Trustees and United Way Allocation Team.  She has an associate of arts degree in business from Baker University.
Allen Dillingham, Commissioner (2011-Present)
Allen Dillingham is the Director of Government Affairs for the Builders' Association and is the former District Director for Senator Kit Bond. Mr. Dillingham currently serves on the Board of Trustees for the Greater Kansas City United Way and the Board of Advocates for Children's Mercy Hospitals and Clinics. He received a bachelor's degree in World Political Economy from The Colorado College and an MBA from UMKC's Bloch School Executive MBA Program.
David Mecklenburg, Commissioner (2011-Present)
David Mecklenburg is an insurance agent with Calvin Eddy and Kappelman, Inc. Mr. Mecklenburg has served the Clay County Parks Board, the Northland Neighborhoods Board and Kansas City's Wet Weather Community Panel. He earned his bachelor's degree from Central Methodist College and is a veteran of the United States Army.
---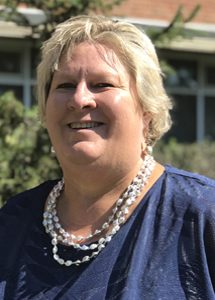 Teresa Rynard, Director
Terry Rynard grew up in Kansas City, walking to school each day through the Buckeye Greenway park. She remembers the Parks and Recreation leaders who helped her with after-school activities, and at age 16 she started working a summer job as a weed whipper. She was one of three young women who worked hard to prove that they could mow faster and carry more sod rolls than the boys.
She graduated from college with a history and education degree and started working full time in the department in 1987 and worked her way up through the ranks. Her KC Parks jobs have included equipment operator, area superintendent, assistant park superintendent, and Deputy Director. In January of 2019, she became the first female to serve as director in the department's 127-year history.
---
The Board of Parks and Recreation holds public meetings every other Tuesday at the Parks and Recreation Department Administration building, 4600 E. 63rd St. All meetings start at 2 p.m. and are open to the public.
To contact the Board of Parks and Recreation Commissioners
Karmen Houston, Secretary
4600 E. 63rd St.
Kansas City, MO 64130
816-513-7503
karmen.houston@kcmo.org